The smarter way to self-manage your rental
Smart landlords
Anabode is an indispensable landlord app that provides value, control, and peace of mind to accidental, part-time, and professional landlords alike. Available across mobile and tablet, the app is designed to help smart landlords who know that happy tenants and smooth tenancies go hand in hand.
Play video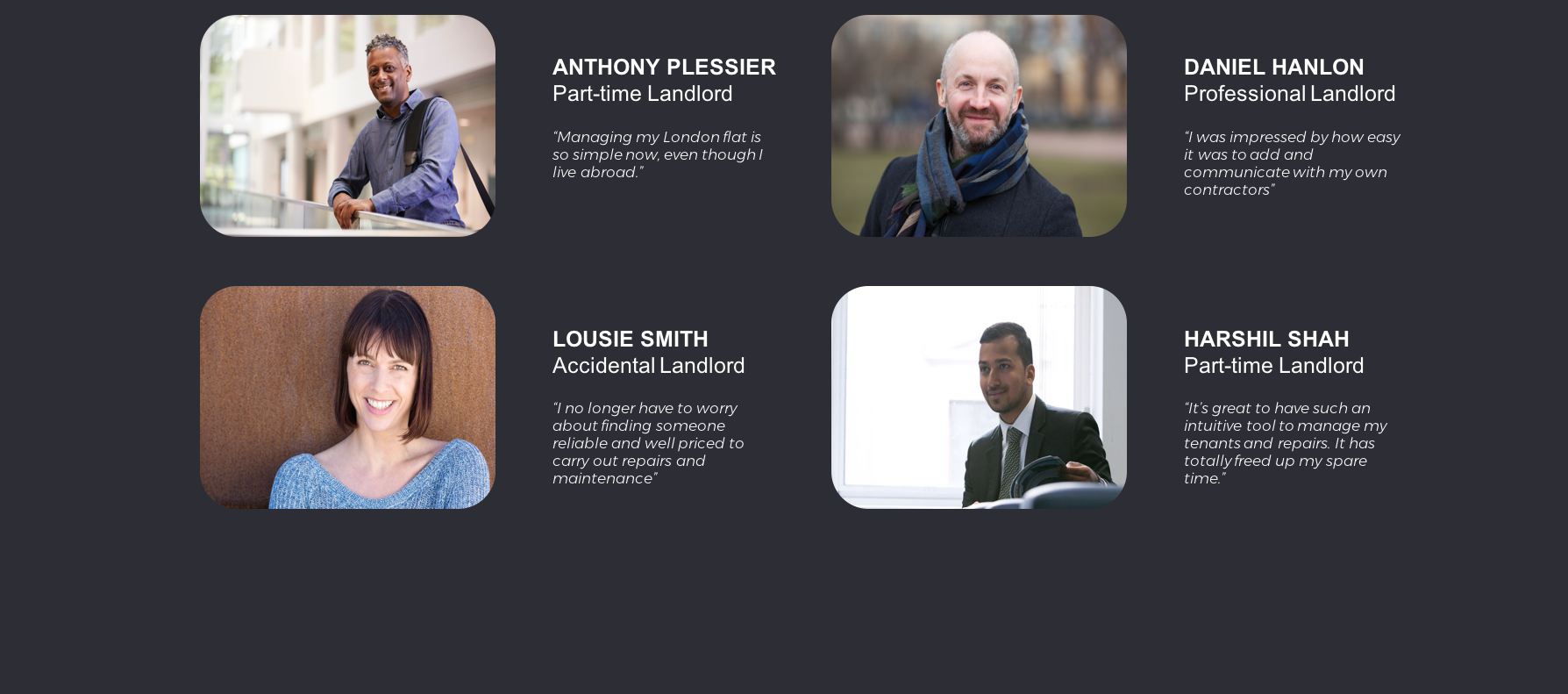 Managing my London flat is so simple now, even though I live abroad.
Anthony Plessier
Part-time Landlord
I was impressed by how easy it was to add and communicate with my own contractors.
Daniel Hanlon
Professional Landlord
It's great to have such an intuitive tool to manage my tenants and repairs. It has totally freed up my spare time.
Harshil Shah
Part-time Landlord
I work with many overseas landlords, and now my team and I can manage their portfolios as an add-on service.
Maqbool Ahmed
Accountant
I no longer have to worry about finding someone reliable and well priced to carry out repairs and maintenance.
Louise Smith
Accidental Landlord
Trusted contractors
Anabode Trusted
A select group of 'Anabode Trusted' contractors covering Greater London
We only work with a limited number of trusted Greater London contractors. They all must sign & adhere to our strict charter, upholding our core principles of value, quality & reliability.
Own Contractors
Handle repairs yourself or
via your own contractors using the app
Easily add your own tradespeople & assign them to specific properties or regions. They can respond to repair requests & communicate in exactly the same way as our trusted contractors.
Status Updates
Clear & easy communication,
including live repair status updates
Clear communication & transparency are paramount when there's a job that needs doing. Contractors provide before & after photos & videos, as well as status updates during the repair process.
Fully Accredited
Relevant industry body certified
& fully ensured contractors
Anabode Trusted contractors undergo strict evaluation & regular reassessment, covering work, premises, documentation, equipment, & staff in order to maintain their industry accreditations.
Customer Rated
Continuous customer assessment
ensures the highest standards
Contractors are customer-assessed against Value, Quality, Cleanliness, Time-keeping & Communication criteria. They must maintain premium star-ratings in order to remain Anabode Trusted.
Emergencies
Need it done fast? Emergency & out
of hours teams are there to help
For those jobs that need doing fast, Anabode handles 24 hour emergency repairs on-demand. Be it gas, electrical, plumbing or anything else, dedicated contractor teams will take care of it.


Beta
Launch Phase
Free, full function access will be provided to all users who join us whilst we are in beta.
Sign up now to get started.
No credit card required.
Free plan
Always Free
1 Property

Process Checklists
Cloud Document Repository
Reminders & Alerts
Private & Group Communication
On-demand Repairs & Maintenance
Portfolio
£4.99/month
Free in Beta
Up to 10 Properties

Process Checklists
Cloud Document Repository
Reminders & Alerts
Private & Group Communication
On-demand Repairs & Maintenance
Professional
£19.99/month
Free in Beta
Up to 50 Properties

Process Checklists
Cloud Document Repository
Reminders & Alerts
Private & Group Communication
On-demand Repairs & Maintenance
Bespoke
From £49.99/month*

(*After Bespoke Build Costs)
Unlimited Properties

Ideal For Property Managers
Custom Branding & Design
Accounting Integration
Bespoke Systems Integration
Custom Functionality
Full Backend Support
Commercial
From £59.99/month
For Maintenance Providers

Commercial Portfolio Management
Cloud Document Repository
Reminders & Alerts
Private & Group Communication
On-demand Maintenance
Custom Builds Also Available